Reminder messages are sent a few days before a patients appointment. They contain customised information, such as date, time, location and clinic, or a link to a website with more information. 
Why would I use it
Patients forgetting the time, date, or location of their appointment is one of the largest reasons for Did Not Attends (DNAs). It is also the easiest problem to solve.
Sending an SMS a few days before the appointment dramatically improves DNA rates. Patients find them really useful too. 
How do I use them?
First login to the management pages, and click on the 'Settings' button in the left hand menu.
You'll be shown a list of specialities. Click the speciality you'd like to set-up reminders for. 
Hint - at the top of the page, and next to each speciality we show a 'coverage' metric. This is the % of patients receiving messages at the moment. The higher this is, the lower your DNA rate will be!
Once you've selected your speciality, you'll be presented with a list of clinic codes. These will match what you have configured in your Patient Administration System (PAS) or EPR. If you need to update something, change it in your master system and DrDoctor will automatically update. 
 You can choose to configure at an individual clinic code level, by clicking on that clinics name, or else configure defaults for the whole speciality by clicking the orange 'Configure defaults' button. 
Tip - Search using the box above configure defaults, or sort the columns by clicking on the titles. 
When you click on a clinic the settings page will pop up.  The settings for reminders are on the first page just below the location and booking team info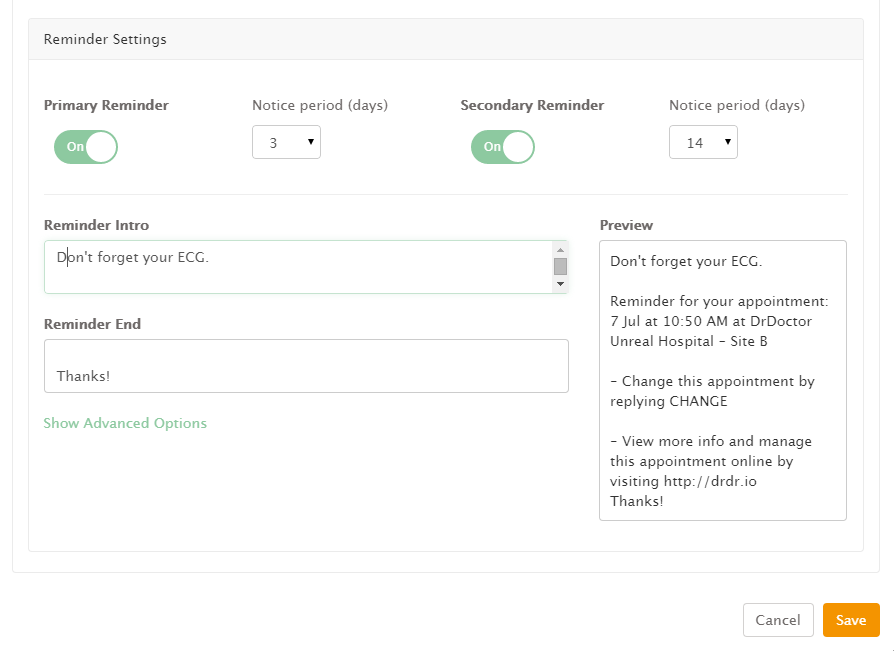 From this screen it is possible to set up to two reminders for each appointment.  You can adjust the days notice that the patient will get and you can adjust the content.  You can see a live example of how the reminder will look as you change the settings on the page.